Special Price
€27.00
Regular Price
€30.00
Original® Silica - Extract of organic Springtime Horsetail
For healthy, lustrous, manageable, beautiful, full and thick HAIR
For firm, flexible, thick, healthy, beautiful and youthful SKIN
For strong, healthy, shiny NAILS
For strong, healthy TEETH
For strong and non brittle BONE STRUCTURES
For counteracting OSTEOPOROSIS and other similar degenerative diseases, by reducing the number of osteoclast cells, thereby preventing bone loss. Regulates the re-deposition of calcium and phosphorous.
No more tablets, but capsules. A new capsule system more natural that improves the compounds bio-avalaibility and therefore their efficency. Learn more...
Silicon in the form of silica (or silicon dioxide) is found abundantly in nature, making up 28% of the earth's surface. Silica is the most common silicon compound. Silica is an essential element found in the skin, hair, nails, the aorta, connective tissue and the skeletal structure. There are various sources of organic silica found in nature including but not limited to root vegetables, unrefined grains, and plants such as bamboo and the horsetail plant.
Horsetail Plant, Equisetum Arvense
The horsetail plant is a perennial plant that grows 8 to 10 inches tall. This plant has a valuable medicinal purpose due to its high silica content. It contains up to 70% silica as well as other valuable minerals. The horsetail plant is harvested in the Spring due to its high content of organic silica.
Hair, Nails and Skin
Throughout Europe silica is used by women and men for it's many nutritional benefits including strong and beautiful hair resistant to breakage and splitting. It is celebrated for its ability to produce a youthful glow. A lack of silica results in lowered elasticity and less tone in the skin layers.
Silica and Osteoporosis
Silica has been known to play an important role in the formation of bone; therefore it has been deemed useful in treating osteoporosis. Osteoporosis occurs when there is a low rate of bone formation and a high rate of bone reabsorption. Studies in animals indicate that silicon supplementation reduces the number of osteoclast cells, thus primarily preventing bone reabsorption and bone loss. Silica acts as a regulating factor for the deposition of calcium and phosphorous in bone tissue. It has also been reported to neutralize the detrimental effects of aluminum in osteoporosis. Research is still being conducted to determine the exact relationship between silica, bone reabsorption and bone loss.
The European Secret for…
Healthy Hair
Strong Nails
Beautiful Skin
Strong Bones
& More
Silica is vital to health, wellness and appearance, making this mineral essential for healthy looking skin and nails.
Benefits of Silica
Strengthens connective tissue and improves its structure and function
Important for the formation of bone
Important for the proper formation of articular
Maintains cell metabolism and cell formation
Inhibits the aging process in tissues
Increases elasticity and firmness of blood vessels
Assists in the prevention of cavities and tooth loss
Dr. Louis Kervran, world-renowned inventor, lecturer and Nobel Prize nominee in the late 1960's, developed Original SILICA from horsetail plants cropped in the Spring and organically grown in France. His patented extraction method uses pure water and converts silicon dioxide (silica) into a bio-available form of silicon that is easily assimilated by the human body. His method uses only pure water, no solvents.
Download Factsheet PDF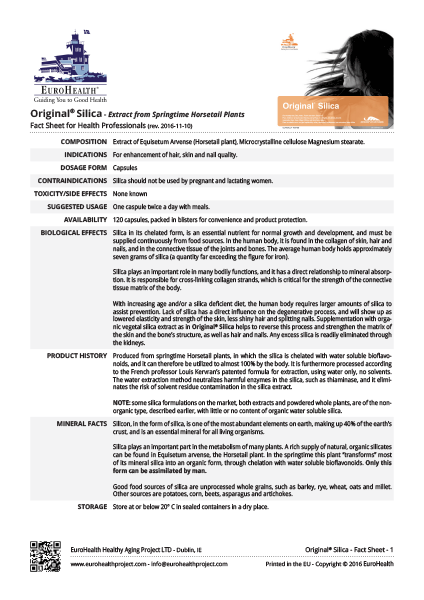 More Information

| | |
| --- | --- |
| Quantity | 120 caps |
| Dosage | 475 mg |
| Country of origin | Sweden |